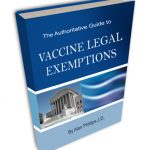 FINALLY
 -- Comprehensive, authoritative information about
vaccine exemptions you can trust
, from Alan Phillips, J.D., a leading vaccine rights attorney with years of experience helping clients throughout the U.S. legally avoid vaccines in a wide variety of vaccine-refusal settings. Recommended By Dr. Tenpenny
---
Dr. Gonzalez and Dr. Bradstreet were doing significant work on connecting the dots between autism and vaccines. The FDA raided offices. Doctors were found dead. Although there are now more dots to connect, they are seemingly easier than ever to connect.
Listen to this explanation over the matter.
Dr. Ted Broer explains why doctors are being killed for what they are discovering about vaccinations and how to cure the effects of the Elite's genocide forced on your children and those taking forced vaccinations.
---
-before they silence us...
---
Please follow and like us:
Comments
comments