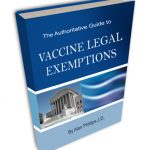 FINALLY
 -- Comprehensive, authoritative information about
vaccine exemptions you can trust
, from Alan Phillips, J.D., a leading vaccine rights attorney with years of experience helping clients throughout the U.S. legally avoid vaccines in a wide variety of vaccine-refusal settings. Recommended By Dr. Tenpenny
---
Mammograms are once again under fire, and once again it is leaking out into the mainstream news. The mainstream news typically pushes mammograms like tootsie rolls on Halloween night, but in this case, the issues are far to obvious and overwhelming to ignore.
On PBS, the headline was "Mammograms May Do More Harm Than Good."
One in three women with breast cancer detected by a mammogram is treated unnecessarily, because screening tests found tumors that are so slow-growing that they're essentially harmless, according to a Danish study published Monday in Annals of Internal Medicine, which has renewed debate over the value of early detection.
This isn't the first time mammograms have come under fire. For the past decade, women have been waking up and figuring out the mammogram scam. Mammograms make a ton of money for the makers of the machines and for the Doctors, but the fact is, they are disturbingly unreliable. Additionally, as the story mentions, they lead many women to surgeries and chemo who are perfectly healthy. And then in the contrary case, they cause women with breast cancer to feel safe even though they do have it.
Misdiagnosis, in both cases, being the big issue.
And the news is spreading.
Check out the mainstream sites which posted the news critical of mammograms:
ABC World News Tonight (1/9, story 13, 0:20, Muir) reported on "a 17-year study suggesting one of three tumors discovered through mammograms may be treated unnecessarily."
Reuters (1/9) reports that the research, published online in Annals of Internal Medicine, suggests "widespread breast cancer screening may catch more small, slow-growing tumors that are unlikely to be fatal without curbing the diagnosis of advanced cancer cases."
The NPR (1/9) "Shots" blog reports that investigators who "followed thousands of women in Denmark over more than a decade…found that perhaps one-third of the abnormalities detected by mammograms may never cause health problems."
According to TIME (1/9), "the findings of the new paper support growing data…that breast cancer is over-diagnosed, with small growths that likely aren't going to progress into cancer being detected – and treated – more than they need to be."
---
-before they silence us...
---
Please follow and like us:
Comments
comments