Birth control is one of the most popular pharma medications prescribed by doctors. It can at times be one of the more controversial ones as well, depending on who you are talking to. For some, women's birth control is a means for regulating a period or dealing with PCOS. It can be something that a parent gives to a teenage daughter. It can also be something that a parent feels is "giving a pass to a teenage daughter." Again, it is all dependant on the source of the discussion.
But one thing that is widely accepted on the birth control front is that mainly, it is for women (at least from a medication standpoint). That's hardly ever been disputed. When it comes to birth control medications, the man commonly has little to consider in the equation. But a new birth control shot that's being tested may change all of that, for the better, or for the worse.
The new shot, which is still being studied, lowers a man's sperm count. And supposedly it works at a 96% rate. Researchers are working now to manipulate hormones as a way to prevent post-partum, as well.
"The study found it is possible to have a hormonal contraceptive for men that reduces the risk of unplanned pregnancies in the partners of men who use it," said one of the study's authors, Mario Philip Reyes Festin, MD, of the World Health Organization in Geneva, Switzerland. "Our findings confirmed the efficacy of this contraceptive method previously seen in small studies."
Here are the results as posted on Rebel Circus.
The study was a Phase II single arm, multi-center study. The study was designed to test the safety and effectiveness of injectable contraceptives in men with normal sperm counts between the ages of 18 and 45. All the men involved had been in relationships with women between the ages of 18 and 38 for at least a year.

The men got injections of 200 milligrams of a progestogen called norethisterone enanthate (NET-EN). They also got 1000 milligrams of an androgen called testosterone undecanoate (TU). The two injections were given to the men every eight weeks for 26 weeks to suppress their sperm counts. The men involved needed to provide semen samples every couple of weeks until they met the criteria for the next phase of the experiment. While that was going on, the couples couldn't use hormonal birth control.

The hormones were successful in preventing pregnancies. Specifically, the hormones were able to lower sperm count to under 1 million within 24 weeks in 274 participants. Additionally, 96% of continuing users were successful in preventing pregnancy. During the second phase of the experiment, only four pregnancies happened.
The researchers are now looking for new couples willing to be part of the experiment.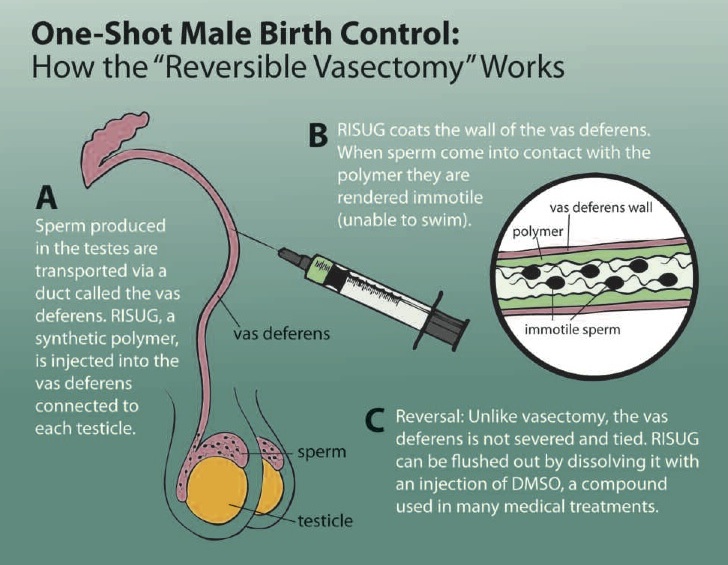 ---
Support Vaxxter
Your Donation Helps Us Fight Censorship And Remain Ad-Free
Help Us Fight
If you prefer snail mail instead, make donation checks payable to CHOONADI, LLC, owner of Vaxxter.com 7380 Engle Road Middleburgh Hgts, OH 44130
---