Former Harvard Professor Charles Lieber was initially arrested for espionage, but the 64-year-old's charges were slowly distilled to mere tax evasion. Finally, three years later, when the news was focused on Tucker Carlson's firing, the NanoTech King was sentenced to time served, which amounted to just two days in prison. I repeat just two days.
The cost of treason is very low these days.
Judge Rya W. Zobel, 92, who incidentally studied at Harvard Law, also gave Lieber a two-year supervised release, six months of home confinement, a $50,000 fine, and $33,600 in restitution to the IRS. Hardly a sentence fitting for a traitor and spy.
As an aside, Lieber is integral in making transhumanism possible. But in this New World Order, that isn't illegal.  Lieber's sentencing was highly anticipated for those who knew what he was guilty of. His hearing was delayed multiple times, pushing the hearing to April 26, 2023. Finally, the judge stated the date could not be pushed any further out.
Reportedly, Lieber has been largely confined to his home and hospitals for the last three years, "fighting for his life on multiple fronts." Back in 2014, he was diagnosed with an incurable slow-growing cancer. The government took his lymphoma diagnosis into consideration during his sentencing, but insisted he deserved a "weighty punishment", which to them was a mere 90 days. Paltry. But even that was better than time served. By the way, Lieber's cancer is currently in remission.
"We tried," someone at the DOJ press office told me.
But had they really? Or was it all just an illusory dragnet? 
Downward Departure: Reframing Reality Toward A Release
On January 28, 2020, at the offset of the Rona Regime, it seemed that the Department of Justice  (DOJ) was going to crack down on Lieber. The tenured chemistry professor and Harvard chair was charged with making false statements to US government agencies regarding his involvement at the Wuhan University of Technology ("WUT"), and China's Thousand Talents Plan (TTP), a program designed to attract and recruit top scientific and technological talent from around the world to promote development in China.
His arrest occurred under Trump's 2018 China Initiative, a DOJ program to counter economic espionage and intellectual property theft by Chinese companies and individuals operating in the US. It sought to identify and prosecute individuals and organizations engaged in activities that threaten American national security, economic interests, and technological superiority.
Under Biden, however, the China Initiative was literally 404'd –  meaning it was erased from the internet. Under the Ministry of Truth, the government literally deletes programs off websites, only to be viewed by those who know to search the archives.
Oh yeah, and the initiative was also dubbed "a colossal blunder."
Suddenly, under Wokeism, critics accused the program of unfairly targeting Chinese individuals and companies and using racial profiling in its investigations.  Attempts by the US government to stave off spying and combat foreign influence in American academia was described as xenophobia.
In the overall aim to rewrite the narrative, nanoscientists and supporters of Lieber – many from China – submitted letters defending his genius and decrying the importance of sharing research discoveries globally.
For instance, one student wrote,
"On a fall morning in 2018, Professor Charles Lieber and I took the subway to MGH (Massachusetts General Hospital) together to watch human brain surgery. I was so excited that the device he and I made could be implanted in the human brain to cure various brain diseases. Unfortunately, it is now impossible to proceed with that experiment. But the time I worked with Professor Lieber was the best moment of my life and I look forward to seeing that moment once again if I get the chance."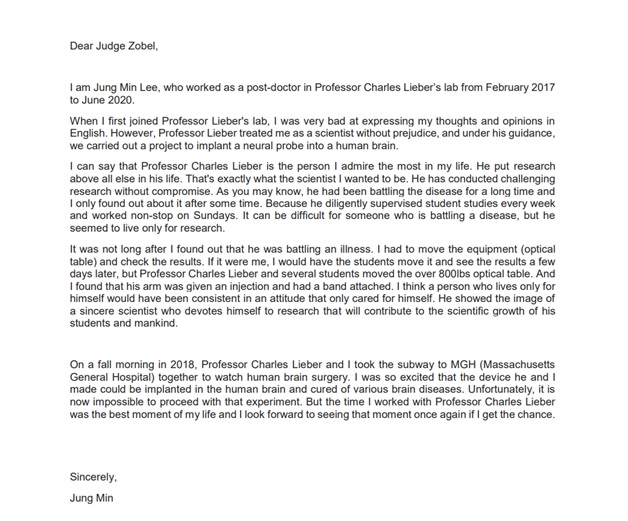 Another student referred to Lieber as "a superstar" and stated that "Charlie" influenced his life more positively than anyone he knew, excluding his parents. His note stated that Lieber "would dream out loud about how we could make a difference in the world, and how I shouldn't settle for anything less."
Lieber Has Left The Building
While Lieber's participation in TTP was not itself illegal, his chronic lies to the US government were.
"The defendant was only able to commit his crimes because he was entrusted with federal funds by the victims of his crimes," wrote the DOJ.
Seemingly, however, if you are Lieber, you can deceive three separate government agencies about a highly lucrative contract and get away with it.  Government parties allegedly didn't know about Lieber's shenanigans with China, but what if all these global players are in cahoots or at least are willing to look the other way?
How else to justify that "double-dipping" is okay? He was arguably receiving Chinese funding for the same projects. This exemplified a conflict of interest. The transhuman agenda knows no borders.
The DOJ noted that the relationship between Lieber and WUT had little to do with legitimate scientific collaboration or discovery but was "instead a way for each to burnish their reputation and achieve other goals."  For its part, WUT sought to promote Chinese interests through a close association with a preeminent scientist from a world-class institution.
Lieber, on the other hand, participated in the TTP because, as he admitted after his arrest, he "wanted to win a Nobel Prize." All the while, he "further[ed] his career while also lining his pockets courtesy of the Chinese government," wrote the DOJ.
As Lieber himself told the FBI shortly after his arrest, he "wasn't completely transparent [with the Department of Defense (DOD)] by any stretch of the imagination."
This is an understatement.  An email from Lieber provides even further evidence of his intent to obstruct the DOD inquiry: "I will be careful about what I discuss with Harvard University, and none of this will be shared with government investigators at the time," he wrote.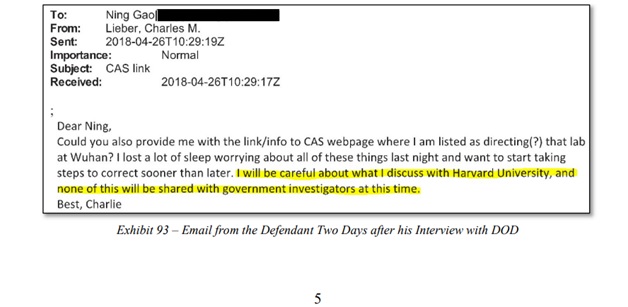 Lieber's relationship with WUT traces back to 2008, and he seems to have satisfied many of his obligations to WUT between 2012 and 2015. These were clearly spelled out in his contract: he was to serve "… the needs of the [Chinese] national strategy" and make WUT "an important influencing base of scientific research, talents cultivation, and international collaboration."
The contract also obligated Lieber to perform joint research, publish papers acknowledging WUT, organize conferences, and host WUT students in his lab at Harvard, all under the "regular supervision and review" of WUT.
In return, the Communists handed their secret agent a salary of up to $50,000 a month, living expenses of up to $150,000 and approximately $1.5 million to conduct joint research. To receive this money, Lieber opened a bank account at the Wuhan branch of the Industrial and Commercial Bank of China ("ICBC") shortly after he signed the contract. Thereafter, at Lieber's request, WUT paid Lieber half of his salary in cash and half via deposits into Lieber's ICBC account. Documents found at Lieber's home reflect payments of nearly $90,000 by WUT. He literally brought money back from China in brown paper bags.
In his interview with the FBI, Lieber acknowledged that this was "obviously illegal."
Yet he was sentenced to two days. 
The narrative claims Harvard had no clue that the tenured professor  helped establish the "Joint WUT-Harvard Joint Nano Key Laboratory" on WUT's campus. He reportedly told Harvard's Dean of Science that he had "never been asked to be a member of the Thousand Talents Program."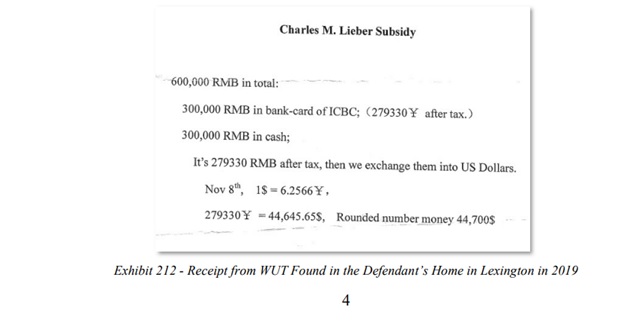 According to Harvard, it was not until January 2015 that Harvard first caught wind of the "WUT-Harvard" joint lab. Personally, I find that hard to believe.
At one point, the National Institutes of Health (NIH), the other funder of Lieber's research, sent a letter to Harvard requesting information about Lieber's suspected ties to WUT and TTP. They scheduled an interview with Lieber and even shared their questions with him beforehand.
"Harvard and NIH gave the defendant every opportunity to provide thoughtful, complete, and truthful answers. They had no reason to suspect that he might lie. … The defendant doubled down on these lies days later when he reviewed and approved Harvard's written response to NIH, knowing full well that it was replete with the false information he had provided," wrote the DOJ.
"Furthermore, by using Harvard as an unwitting conduit to convey false information, Lieber jeopardized Harvard's partnership with NIH and other funding institutions. Moreover, by blatantly lying to his two primary funding sources, Lieber showed a disregard for the students, staff members, and administrators who worked under him, many of whom were left scrambling to find work or complete degree programs after Lieber's funding was revoked. To summarize, the nature and circumstances of the defendant's crimes—including his multiple tax crimes—reflect a deliberate, sustained effort to lie…The nature of these crimes warrants a sentence of incarceration."
Usually, defendants who abuse a position of trust deserve more severe punishment, not less.
But not Charlie.
True Crimes Of The NanoKind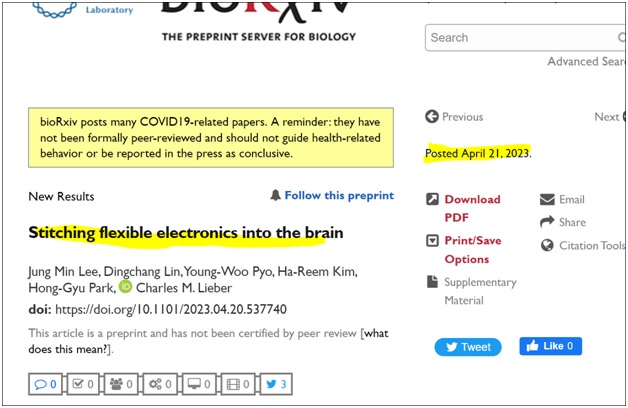 Lieber's formal relationship with WUT appears to have subsided by 2018, and by then, the majority of Lieber's research was funded by two government agencies: the DOD and the NIH.
By the way, Lieber is the guy who created a transistor the size of a virus.
"This innovation is important," Lieber explains, "because it indicates that when a man-made structure is as small as a virus or bacteria, it can behave the way biological structures do."
Lieber is responsible for developing interfaces between nanoelectronic devices and cells to create new biomaterials and tools for studying the brain.
He's associated with at least 66 patents.
Here are just a few:
US Patent 7,537,919 – "Nanowire-Based Sensor and Method of Fabrication": This patent describes a sensor that uses nanowires to detect a target substance. The nanowires can be functionalized with specific molecules to detect various chemicals, such as proteins or DNA.
US Patent 8,003,052 – "Nanowire Array Based Devices and Methods for Making and Using Same": This patent covers a method of making a nanowire array device, which can be used for various applications, such as sensors or transistors.
US Patent 9,080,466 – "Nanoelectronic Sensors for Chemical and Biological Analytes": This patent describes a nanoelectronic sensor that can detect chemical or biological analytes by measuring changes in the electrical properties of a nanowire.
Lieber was arguably a patsy, but not really. The DOJ said he lost his job and, in all likelihood, the privilege of conducting federally funded research as a result of his convictions.
He may not directly be working for the government, yet he's definitely been busy. Five days before his sentence, I found his name on a paper titled "Stitching flexible electronics into the brain."
"In-vitro tests in brain-mimicking hydrogel showed that multi-site probe implantations achieved a high connection yield of >86%."
Looking back, I was naive to think any justice would be served. Lieber was never going to get more than a tap on the wrist. He was/is too much of a prized asset. Being an integral part of the Transhumanist Agenda is no small accomplishment.
Lieber is proof that the powerful elites protect their own.
++++++++++++++++++++++++++++++++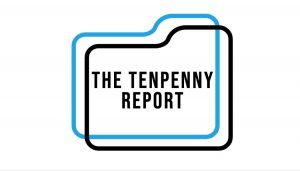 Like what you're reading on The Tenpenny Report? Share this article with your friends. Help us grow.
Get more of Dr. Tenpenny's voice of reason at her website.
++++++++++++++++++++++++++++++++
Maryam Henein is an investigative journalist, and founder, and editor-in-chief of the health magazine and marketplace HoneyColony. She is also a functional medicine consultant/coach, and the director of the award-winning documentary film Vanishing of the Bees, narrated by Elliot Page. Follow her on Twitter @maryamhenein. Email her: maryam@honeycolony.com.
---
Support Vaxxter
Your Donation Helps Us Fight Censorship And Remain Ad-Free
[give_form id="5471"] If you prefer snail mail instead, make donation checks payable to CHOONADI, LLC, owner of Vaxxter.com 7380 Engle Road Middleburgh Hgts, OH 44130

---