Camden Maple is thought of by his parents as a creative child. Unfortunately, Camden's school does not agree with that sentiment. Instead, they have diagnosed him as mentally unstable. Camden is 7-years-old.
Christian and Katie Maple were called to their Lebanon, Ohio school to discuss Camden. They were asked by Bowman Primary School staff exactly what conversations they'd had with their son. They were essentially asked, threatened to disclose private and personal conversations. The school strongly suggested that Camden be placed under pyschological help. His parents disagreed.
What happened next was a deranged set of events. CPS and a handful of police officers showed up at the Maple's home. CPS took over custodial rights of Camden because their parents wouldn't seek out mental help for their son. And now they are in a battle to get Camden back home.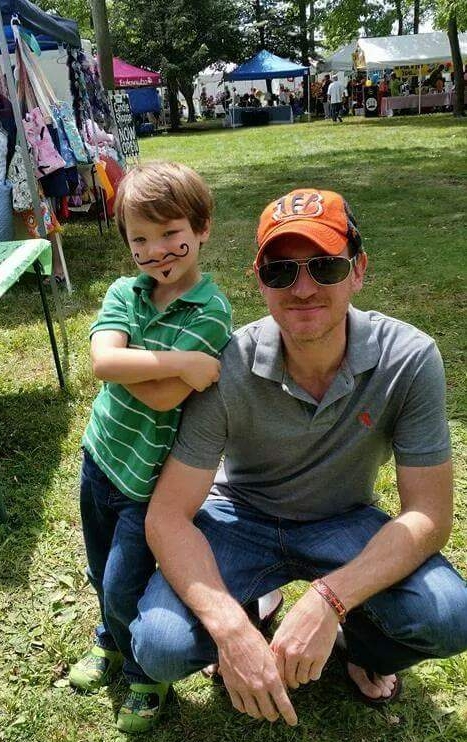 This all seems to stem from an incident whereas Camden was being "disruptive' in class. He was sent to the school counselor. He told the counselor that he was "upset because he felt that he was bad and wanted to erase himself from the earth." This is where things get incredibly weird. The counselor chose not to pursue the road of finding out why the child felt so depressed and instead opted to learn more about his plan to "erase himself from the earth." Camden came up with imaginary, comic-strip influenced narratives such as "stabbing himself in the eye with a knife."
The long conversation with his parents revealed the following:
Camden said that he did not want to hurt himself and just said that because he was upset and wanted to see what the counselor would say. The school thought we should have taken him to the hospital emergency room for a mental health evaluation, but upon assessing the situation and speaking to him at home, it was clear to us that he posed no threat to himself and just said it to get a rise out of the counselor. He has never said anything about harming himself prior to this incident or after. This was one time, one day…most likely repeating something he heard somewhere.
His parents did not believe him to be suicidal or harmful to others.
If we really believed that he would have really hurt himself, then we would have taken him to be assessed. They've blown this way out of proportion.
The school called Christian and Katie the next day to ask if they'd checked him into a mental hospital. They told the school tha they'd opted to simply talk over the issues with Camden. The school demanded a full disclosure of the conversation. Christian and Katie refused and the school used CPS as their enforcer of rule. During court proceedings, it was disclosed that the school had called CPS four prior times on Camden, none of which the parents were made aware of.
A social worker declared that Camden was in need of intervention.
…this child is at risk by virtue of multiple reports to Warren County Children Services and Father preventing the agency from investigating the situation [by exercising his 4th Amendment right to demand a court order or warrant before allowing CPS into his home]. The minor child has made threats of suicide and Father has not provided the children with proper mental health treatment.
And the school says that Camden has ADHD.
The school thinks he is ADHD, we as parents disagree. We believe that it stems mostly from boredom and not being challenged in the classroom. The school has tried on several occasions to get us to have him diagnosed, so that he can be medicated.
We as parents do not have the problems the school claims to have with him, at home. We know how to deal with a rambunctious 7 year old, but the school is content with making him believe that he is a bad child, we disagree.
And this is what Judge Jennifer Coatney of Warren County said to these parents.
You see what happens? This is what will happen to your other children if you do not cooperate.
The Maples feels strongly that they've done nothing wrong. And Camden's siblings want him back. But so far, the state remains in control of his fate.
---
Support Vaxxter
Your Donation Helps Us Fight Censorship And Remain Ad-Free
Help Us Fight
If you prefer snail mail instead, make donation checks payable to CHOONADI, LLC, owner of Vaxxter.com 7380 Engle Road Middleburgh Hgts, OH 44130
---