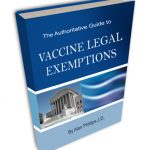 FINALLY
 -- Comprehensive, authoritative information about
vaccine exemptions you can trust
, from Alan Phillips, J.D., a leading vaccine rights attorney with years of experience helping clients throughout the U.S. legally avoid vaccines in a wide variety of vaccine-refusal settings. Recommended By Dr. Tenpenny
---
A new video on Youtube claims that this year's flu strain may be something known as "chemtrail lung." The video claims to be a doctor explaining to what appears to be a patient the consequences of the illness.
From the video:
"CHEMTRAIL LUNG!! Ever heard of that before? If not, you will soon, for it was reported today in the Daily Mail that 2018 has already produced 20,000 EXTRA deaths in England and Wales alone as compared with the previous 5 years statistics. A similar report can be found in the Daily Express."
---
-before they silence us...
---
Please follow and like us:
Comments
comments