A Las Vegas man was sent to the ICU following receiving a flu shot. Monique Morgan says her husband, Shane, was given a flu shot on November 2nd. He began showing symptoms of the flu shortly after the shot.
"36 hours afterward, he developed flu-like symptoms," said Morgan.
Flu symptoms soon turned to paralysis.
"He's like I can't feel my legs… I need you to take me to the emergency room," said Morgan.
Doctors treating Shane believe it could be a "rare disease" called Guillain-Barré syndrome that is often linked to the flu shot.
Guillain-Barré syndrome causes weakness in the muscles, damages nerve cells and can cause paralysis in the limbs. While most people recover in a few weeks, not all do. Guillain-Barré syndrome can cause issues with breathing and sometimes that can result in death.
"You can't get that from a flu shot," said Dr. Daliah Wachs. "A flu shot will not inject anything into you, Guillain-Barré is your body's response to a flu shot or a pathogen."
Interestingly enough, a woman claiming to be Monique Morgan posted a warning on KTNV's social media video coverage of the event. Her warning stated, "DO NOT GET THE FLU SHOT, THIS IS MY HUSBAND."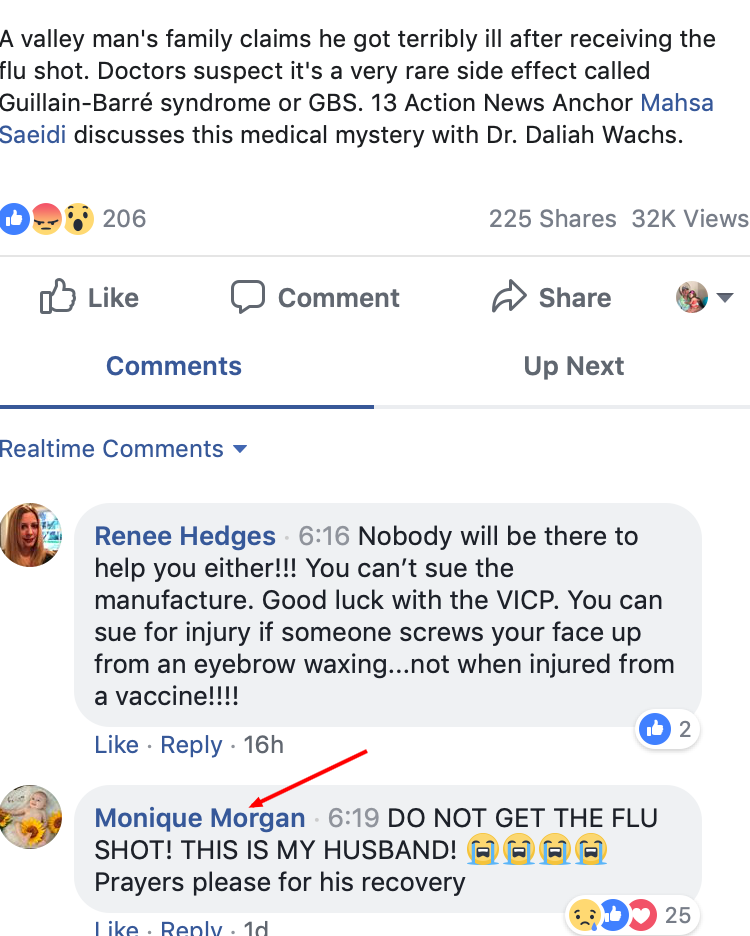 The comment was posted on KTNV's interview with Dr. Wachs. You can watch that below.
---
Support Vaxxter
Your Donation Helps Us Fight Censorship And Remain Ad-Free
[give_form id="5471"] If you prefer snail mail instead, make donation checks payable to CHOONADI, LLC, owner of Vaxxter.com 7380 Engle Road Middleburgh Hgts, OH 44130

---