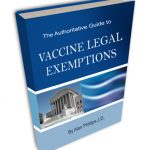 FINALLY
 -- Comprehensive, authoritative information about
vaccine exemptions you can trust
, from Alan Phillips, J.D., a leading vaccine rights attorney with years of experience helping clients throughout the U.S. legally avoid vaccines in a wide variety of vaccine-refusal settings. Recommended By Dr. Tenpenny
---
A mom asked if she could spill a mercury-containing flu vaccine on the ground in front of the HHS building in Washington DC in protest of the dangers in the US vaccine program. She was threatened with jail if she did so.

Subscribe now and receive 3 Free Dr. Tenpenny eBooks!

The mom claims that her son's Autism is the result of a vaccine injury from years back (the son is now over 20 years of age).
---
-before they silence us...
---
Please follow and like us:
Comments
comments