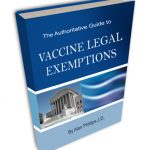 FINALLY
 -- Comprehensive, authoritative information about
vaccine exemptions you can trust
, from Alan Phillips, J.D., a leading vaccine rights attorney with years of experience helping clients throughout the U.S. legally avoid vaccines in a wide variety of vaccine-refusal settings. Recommended By Dr. Tenpenny
---
The organ donation business has always been a controversial one, even though it doesn't often make major headlines. For various reasons, whether philosophical or religious, families of deceased relatives aren't always comfortable with organ donations. And that can often lead to some rather murky waters. Ultimately, the deceased had the final say, but if that wasn't etched in a contractual stone, things can get a bit muddled up when family members are opposed to the decision. And there are many cases where family members do not believe their deceased relative would have consented to organ donation at all.
And then, of course, there are other reasons. BBC 5 live found that almost a third of families blocked organ donation because they felt the process took "too long". Although the consent is ultimately in favor of the deceased, relatives will still have a say in the process. And they have in fact, trumped potential donations via their own reasoning. In England, NHS figures showed that 457 people died last year whilst waiting for an organ transplant.
Here is more from BBC.com
Rachel, 17, from Stoke-on-Trent, wants to be an organ donor, but is concerned that her family do not support her wishes.


Subscribe now and receive 3 Free Dr. Tenpenny eBooks!


She told 5 live: "I wasn't aware when I signed up that your family had to be supportive of your decision. It seems like, well, what's the point of signing up if it could be overruled anyway?

"It does worry me because, if I died now, my mum does make the main decision. I hope I can trust her to make the right one."

When somebody dies who is on the Organ Donation Register, specialist nurses from NHS Blood and Transplant work with their family.

If relatives object, nurses will encourage them to accept their loved one's decision, and make it clear that they do not have the legal right to override it.

However, in practice, if a family still refuses, the donation does not go ahead.
Many family members also give the reason for protesting an organ donation as saying the relative already suffered too much. Additionally, family members often feel that their deceased relative didn't comprehend what they were signing up for. Meaning, they didn't realize what they were checking and what the absolute implications were.
Of course, families needing life-saving organ donations for their dying relatives feel that these family members shouldn't be allowed to block the process when the deceased has opted into a donation. They feel that's acting in a selfish manner.
The NHS has their hands full, ultimately, attempting to cultivate enough organs to help people without upsetting those relatives fo the recently deceased.
---
-before they silence us...
---
Please follow and like us:
Comments
comments