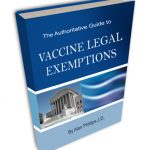 FINALLY
 -- Comprehensive, authoritative information about
vaccine exemptions you can trust
, from Alan Phillips, J.D., a leading vaccine rights attorney with years of experience helping clients throughout the U.S. legally avoid vaccines in a wide variety of vaccine-refusal settings. Recommended By Dr. Tenpenny
---
The Los Angeles Police Department is requesting "urgent" mass vaccinations for up to 1,000 police officers. The Los Angeles police union requested Hepatitis A vaccines for officers following one officer contracting Hep A.
The president of the Los Angeles Police Protective League, Craig Lally, constructed a letter for the Los Angeles County Board of Supervisors. In the letter, Lally is calling for "urgent action to ensure the safety of the approximately 1,600 police officers identified by the LAPD who are most at risk of being exposed to Hepatitis A due to their work assignment," according to DailyNews.

Subscribe now and receive 3 Free Dr. Tenpenny eBooks!

"In areas such as Skid Row and beyond, our officers are placed in direct contact with at-risk populations within their living environments, such as tent encampments, which have very poor sanitary conditions," Lally wrote. "Those conditions have been linked to the rapid spread of Hepatitis A in San Diego, which has resulted in 20 deaths to date."
Further out, Los Angeles County supervisors say that they will introduce policies that make sure even more officers and first responders are vaccinated.
"Our law enforcement officers are on the front-line of this outbreak," Supervisor Janice Hahn, who plans to introduce the motion with her colleague Kathryn Barger, said in a written statement Thursday. "I call on the (county) Department of Public Health to ensure our law enforcement officers have the vaccines they need to stay safe and do their jobs."
"Anyone working in the Central Division has to drive around and walk around this toxic soup every day," he said. "We could have been proactive and given a vaccination to protect this officer."
---
-before they silence us...
---
Please follow and like us:
Comments
comments