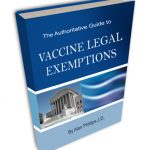 FINALLY
 -- Comprehensive, authoritative information about
vaccine exemptions you can trust
, from Alan Phillips, J.D., a leading vaccine rights attorney with years of experience helping clients throughout the U.S. legally avoid vaccines in a wide variety of vaccine-refusal settings. Recommended By Dr. Tenpenny
---
A Missouri woman who received an abortion doesn't agree with the procedure she was put through and has now filed suit against Gov. Eric Greitens and Attorney General Josh Hawley. The woman is being identified as Mary Doe. The case was rejected by Cole County Circuit Court, however, via Satanist group backing, the case has formally been transferred up the chain to the highest court in the state. Mary Doe, herself, is a Satanist member.
Doe had an abortion in 2015, however, she's upset over the requirements she had to meet in order to have the abortion. For example, signing a document that reads life begins at contraception.
"[t]he life of each human being begins at conception. Abortion will terminate the life of a separate, unique, living human being."
She additionally refused to hear the fetus heartbeat as part of the pre-abortion process. According to the KC Star, she's feeling "guilt and shame" over the matter.

Subscribe now and receive 3 Free Dr. Tenpenny eBooks!

Per Mary Doe: "the sole purpose of the law is to indoctrinate pregnant women into the belief held by some, but not all, Christians that a separate and unique human being begins at conception," according to the court's opinion. "Because the law does not recognize or include other beliefs, she contends that it establishes an official religion and makes clear that the state disapproves of her beliefs."
Judge Thomas Newton seemed to agree enough to transfer the case to the state's Supreme Court.
"Because we believe that this case raises real and substantial constitutional claims, it is within the Missouri Supreme Court's exclusive jurisdiction…" Newton wrote, "and we hereby order its transfer."
Doe is a member of the Satanic Temple. The group has a distaste for organized religion and typically uses shock content to spread their message. Per the group's mission statement: "to encourage benevolence and empathy among all people, reject tyrannical authority, advocate practical common sense and justice, and be directed by the human conscience to undertake noble pursuits guided by the individual will."
---
-before they silence us...
---
Please follow and like us:
Comments
comments