Aluminum is one of the most polarizing and divisive points of contention when it comes to the vaccine debate. Aluminum has commonly been considered a dangerous toxin unless found in a vaccine. Some vaccine makers have claimed to remove aluminum, proponents of safe vaccines often deny these claims.  Studies by Dr. Christopher Exley claim to have found intoxication of the "ubiquitous and omnipresent metal" causes all types of health issues. He claims that aluminum is able to cross the blood-brain barrier.
Exley further claims that no "normal levels" of aluminum exists. Dr. Exley now has a newly published study which highlights the contents of aluminum in the brain tissue. Published in the Journal of Trace Elements in Medicine and Biology, the documentation shows extremely high recordings of aluminum inside human brains. Five to ten autistic brain donors were used in the study.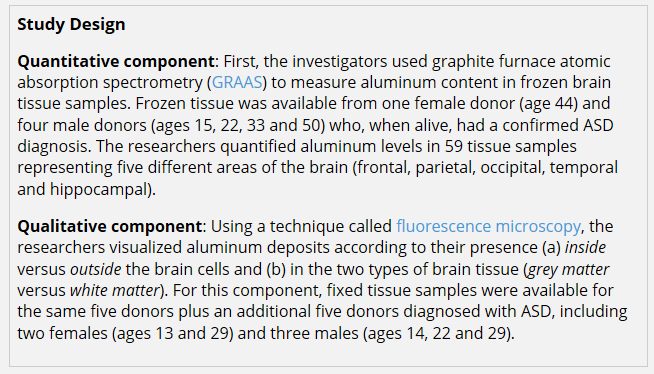 The study shows record amounts of aluminum ever found in healthy human or even unhealthy brain tissue.
A summary via Vaccine Impact
All five individuals had at least one brain tissue with a "pathologically significant" level of aluminum, defined as greater than or equal to 3.00 micrograms per gram of dry brain weight (?g/g dry wt). (Dr. Exley and colleagues developed categories to classify aluminum-related pathology after conducting other brain studies, wherein older adults who died healthy had less than 1 ?g/g dry wt of brain aluminum.)
Roughly two-thirds (67%) of all the tissue samples displayed a pathologically significant aluminum content.
Aluminum levels were particularly high in the male brains, including in a 15-year-old boy with ASD who had the study's single highest brain aluminum measurement (22.11 ?g/g dry wt)—many times higher than the pathologically significant threshold and far greater than levels that might be considered as acceptable even for an aged adult.
Some of the elevated aluminum levels rivaled the very high levels historically reported in victims of dialysis encephalopathy syndrome (a serious iatrogenic disorder resulting from aluminum-containing dialysis solutions).
The study's qualitative findings were equally concerning:
Across the 10 donors, the investigators identified 150 aluminum deposits. All 10 donors had aluminum deposits in at least one tissue.
Aluminum deposits were markedly more prevalent in males than females (129 deposits in seven males, averaging over 18 deposits each, versus 21 deposits in three females, for an average of 7).
In males, most aluminum deposits were inside cells (80/129), whereas aluminum deposits in females were primarily extracellular (15/21). The majority of intracellular aluminum was inside non-neuronal cells (microglia and astrocytes).
Aluminum was present in both grey matter (88 deposits) and white matter (62 deposits). (The brain's grey matter serves to process information, while the white matter provides connectivity.)
The researchers also identified aluminum-loaded lymphocytes in the meninges (the layers of protective tissue that surround the brain and spinal cord) and in similar inflammatory cells in the vasculature, furnishing evidence of aluminum's entry into the brain "via immune cells circulating in the blood and lymph" and perhaps explaining how youth with ASD came to acquire such shockingly high levels of brain aluminum.
Read more at Vaccine Impact
---
Support Vaxxter
Your Donation Helps Us Fight Censorship And Remain Ad-Free
[give_form id="5471"] If you prefer snail mail instead, make donation checks payable to CHOONADI, LLC, owner of Vaxxter.com 7380 Engle Road Middleburgh Hgts, OH 44130

---