Many of you are pregnant – or soon to be! And many of you are new parents. Dr. Sherri Tenpenny has designed a webinar just for you!
The topics covered in this 45-minute FREE webinar are some of the most common questions she has received over her 19 years of vaccine education:
Do I really need a pediatrician? If so, when?

My baby's head is flat on one side. Should I be concerned? What can I – or what should I – do?

I know to refuse the hepatitis B vaccine at birth. But what about Vitamin K?

Are there any supplements that are really important for me (while pregnant) and for my newborn?

Dr.T, are all vaccines bad or are there any vaccines I should consider?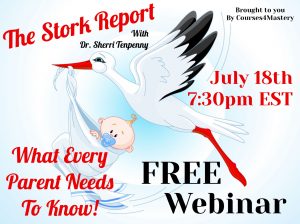 There will be a Q&A period at the end of the discussion.
You MUST register to attend. Here's the link. 
The webinar will be recorded. If you're registered but can't attend the LIVE presentation, you will have access to the link approximately 2 weeks after the Live Event.
---
Support Vaxxter
Your Donation Helps Us Fight Censorship And Remain Ad-Free
[give_form id="5471"] If you prefer snail mail instead, make donation checks payable to CHOONADI, LLC, owner of Vaxxter.com 7380 Engle Road Middleburgh Hgts, OH 44130

---