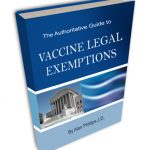 FINALLY
 -- Comprehensive, authoritative information about
vaccine exemptions you can trust
, from Alan Phillips, J.D., a leading vaccine rights attorney with years of experience helping clients throughout the U.S. legally avoid vaccines in a wide variety of vaccine-refusal settings. Recommended By Dr. Tenpenny
---
Mainstream media, including Fox News, have posted a baby's first vaccines video, causing the video to go viral, and becoming another polarizing example of the great vaccine divide. Facebook user Antwon Lee holds his son down as a nurse gives the baby his first vaccines. Lee's girlfriend, Shamekia Harris, films the vaccine session.
The video now has over 13 million views on Facebook.

Subscribe now and receive 3 Free Dr. Tenpenny eBooks!

Lee told People Magazine that he "felt kind of scared a little bit," and that he knew the child was "going to go through some pain."
---
-before they silence us...
---
Please follow and like us:
Comments
comments