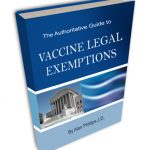 FINALLY
 -- Comprehensive, authoritative information about
vaccine exemptions you can trust
, from Alan Phillips, J.D., a leading vaccine rights attorney with years of experience helping clients throughout the U.S. legally avoid vaccines in a wide variety of vaccine-refusal settings. Recommended By Dr. Tenpenny
---
Family, friends and organizers gathered for a vigil at Cedars-Sinai Medical Center on Friday after 39-year-old Kyira Dixon Johnson died at the hospital following a C-section delivery.

Subscribe now and receive 3 Free Dr. Tenpenny eBooks!

Mary Beth McDade reports for the KTLA 5 News at 10 on June 23, 2017.

---
-before they silence us...
---
Please follow and like us:
Comments
comments