FDA Commissioner Scott Gottlieb took to Twitter this week to "clarify" his position on vaccines after rumors surfaced that the FDA had met with anti-vaxxers to discuss the vaccine safety commission, which has recently found its way back into the spotlight due to Robert Kennedy Jr. speaking out over the slow to evolve government agency.
"STAT reports "head of FDA" met with anti-vaxxers to discuss 'vaccine commission.' That's not true-Neither I nor my senior team had such mtg."
"STAT never called me to request comment. I would have told them none of the members of my team was asked to have, nor granted, such meeting."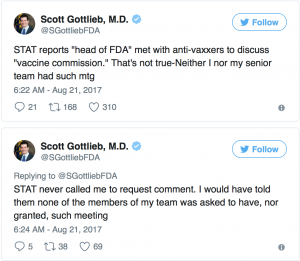 It would seem that Gottlieb's leaving out "safety" in 'vaccine commission' was strategic in a sense, likely to appease anyone who might push back on him for even considering the commission a legitimate venture.
But the truth is, Kennedy has met with senior staff. Kennedy met with Lyndsay Meyer, an FDA spokeswoman via World Mercury Project. Similarly, he met with Peter Marks, head of the Center for Biologics Evaluation and Research.
However, the FDA is distancing itself from the meetings being that of anti-vaccine agenda in nature.
"There is a robust body of peer-reviewed, scientific studies conducted in the United States and countries around the world that support the safety of thimerosal-containing vaccines," the agency said in a statement. "The scientific evidence collected over the past 15 years does not show any evidence of harm, including serious neurodevelopmental disorders, from use of thimerosal in vaccines."
Gottlieb went back to Twitter, fearing he'd be viewed as listening to antrhetoric rhertoric. "The issue is one of critical concern to me, and I don't want to leave any misimpression about MY views on the matter,"
STAT letter corrected the story under FDA pressure. Gottlieb then went back to Twitter and posted a couple of pro-vaccine Tweets, hoping to eliminate any confusion over the matter.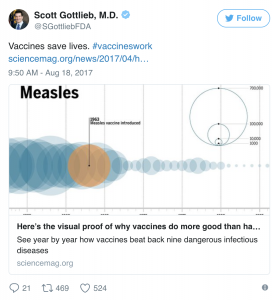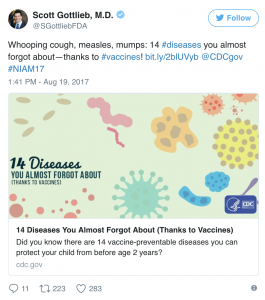 photo credit: twitter.com/SGottliebFDA/
---
Support Vaxxter
Your Donation Helps Us Fight Censorship And Remain Ad-Free
Help Us Fight
If you prefer snail mail instead, make donation checks payable to CHOONADI, LLC, owner of Vaxxter.com 7380 Engle Road Middleburgh Hgts, OH 44130
---