Mississippi has some of the toughest vaccine laws in the country. It has neither religious nor philosophical exemptions for public school children. And though a large portion of the community supports strict laws that make it more difficult for parents to avoid vaccinating their children, there is a growing group of counter protesters. And one of those groups has made their feelings be known in a very public way.
Making use of a large, electric billboard that sits hovering over a Burger King in Tupelo, the group Mississippi Parents for Vaccine Rights placed a sign that reads "Are Vaccines Killing Our Babies?" The sign also claims that 50 or more children have been killed by routine vaccinations. "50+ Mississippi babies died following routine vaccines," the sign has as a sub-heading.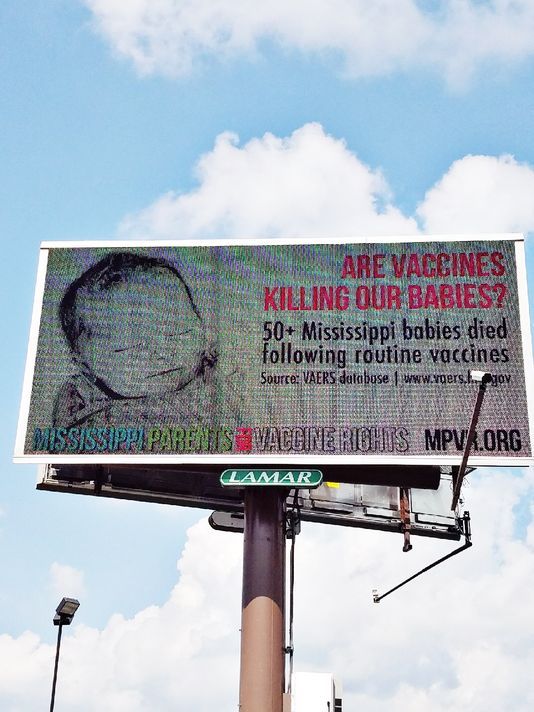 The Mississippi Department of Health has been quick to react to the signage.
"Vaccines are saving our babies," said Dr. Paul Byers, Mississippi State Department of Health State epidemiologist.
But the group contends that the Vaccine Adverse Event Reporting System, or VAERS, shows proof-positive evidence that 50 children under the age of 2 have died following routine vaccinations.
"The way VAERS collects that data, it is not possible to draw an association between that adverse event and whatever vaccines were given," Byers said.
Cheryl Peeples, regional head of the group's northeast chapter, said the sign is part of a new "vaccine death awareness" campaign, according to the Clarion Ledger.
"We don't want parents to be shut down by their doctors. We don't want doctors denying what parents see with their own eyes and what they're experiencing when it comes to vaccine injury," Peeples said. "To me, it's like the big elephant in the room. It's there. It's happening, and we need to discuss it because we don't need one more child dying from vaccines."
---
Support Vaxxter
Your Donation Helps Us Fight Censorship And Remain Ad-Free
Help Us Fight
If you prefer snail mail instead, make donation checks payable to CHOONADI, LLC, owner of Vaxxter.com 7380 Engle Road Middleburgh Hgts, OH 44130
---