by Sherri Tenpenny, DO AOBNMM, ABIHM
It's interesting to see how much time and money is spent researching influenza and influenza vaccines. A quick search of PubMed for "influenza vaccine" returns 8,062 results; narrowing the search by adding "elderly," 3,442 results were returned. In January 2017, another study on the use of high-dose flu shots in the elderly was published in the journal, VACCINE. The current meta-analysis included 16 studies – after 2,289 records, 323 abstracts and 233 full-text articles had been excluded.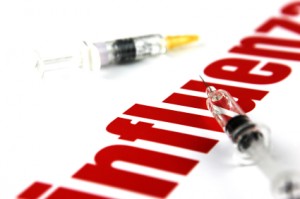 No one seems to know how long antibodies persist after an influenza infection or after an influenza vaccine. A study by Young, et.al. mentions research done in Spain (2008) that found vaccine effectiveness – meaning antibody levels –declined from 61% in the first 100 days after vaccination to 42% between days 100 to 119, to no antibody levels detected after 120 days. An influenza antibody level is considered to be seroprotective if the titer is > 1:40. However, the study authors note that as the titer increases from 1:40 to 1:100, the probability of protection is thought to increase to approximately 90%.
Probable, not absoute protection. And only 90% (not 100%).
 The full text article is worth reading. A few points stand out:
This could be the beginning of giving flu shots, especially to the elderly, every 120 days – or three times per year.
Once again, researchers expect high antibody titers to keep people from contracting the flu, and never even mention lifestyle, hand washing, adequate vitamin D and vitamin C levels.
Could this be the beginning of using high-dose influenza vaccines for everyone?
So, what makes a high-dose flu shots different from the routine flu shots given to everyone else?
For one thing, the Fluzone High-Dose vaccine contains four times more virus than regular flu shots. While many of the multi-dose flu shots still contain thimerosal (mercury), the high-dose vaccine is mercury free. Instead, it contains formaldehyde and octylphenol ethoxylate, also known as OPE. Octylphenol ethoxylate is found in cleaning products, paint, and textiles, and it is used to make paper. OPEs as a class are known to be  toxic to wildlife, particularly water organisms. They are endocrine disruptors because they can mimic animal hormones. The ability for octylphenol ethoxylates to cause cancer is unknown.
And this is an ingredient injected into our elderly.
Two studies regarding the Fluzone High-Dose vaccine are reported on its package insert. Within 6 months post-vaccination, 156 of 2,473 vaccine recipients experienced a serious adverse event (SAE). No deaths were reported within 28-days post-vaccination. However, 16 deaths were reported 29 to 180 days post-vaccination. In the second study, 15,992 elderly persons received the Fluzone High-Dose flu shot. During the six to eight month post-vaccination surveillance period, 1,323 persons reported a serious adverse event (SAE); this included 83 deaths.
Persons given Fluzone High-Dose were at least 60 years of age, and the majority had underlying health conditions, including cardiac, respiratory and renal problems; some had cancer.  When the patient died, their chronic illness was blamed as the cause of death. In typical fashion, researchers proclaimed there was "not enough evidence to prove a causal relationship between the deaths and the Fluzone High-Dose vaccine."
Of course not.
Serious adverse events, even death, are never caused by the vaccine.
Effective is Not a Synonym for Protective.
The current study is advocating for high antibody titers to better protect from the flu. But in reality, a positive vaccine titer simply demonstrating the immune system "did its thing" by creating an antibody to remove the gunk was injected into the body through vaccination. The medical industry calls its antibody a "surrogate marker" and declares that the IgG antibody created by the flu shot – or any shot, for that matter -will prevent you from getting sick.
Problem is, according to the CDC's "Weekly Flu Activity & Surveillance Reports, posted each year between Oct.(wk 40) to May (wk 20), only about 15% of all swabs taken from persons with flu-like symptoms contain influenza viruses.
That means, 85% of the time that you experience symptoms labeled as "flu," the illness is not caused by an influenza virus – meaning the flu shot, and its antibodies – would not have kept you from getting sick.
More flu shots. Stronger flu shots.
Not less flu, more death and chronic disease.
---
Support Vaxxter
Your Donation Helps Us Fight Censorship And Remain Ad-Free
[give_form id="5471"] If you prefer snail mail instead, make donation checks payable to CHOONADI, LLC, owner of Vaxxter.com 7380 Engle Road Middleburgh Hgts, OH 44130

---