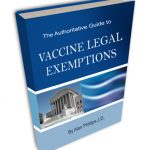 FINALLY
 -- Comprehensive, authoritative information about
vaccine exemptions you can trust
, from Alan Phillips, J.D., a leading vaccine rights attorney with years of experience helping clients throughout the U.S. legally avoid vaccines in a wide variety of vaccine-refusal settings. Recommended By Dr. Tenpenny
---
Understanding how to report suspected vaccine injuries is essential. Many parents and individuals who suspect a vaccine injury do not understand how to report it to VAERS. A law firm has created a video, albeit self-serving, that shows the process., While the video is promoting the law firm, it still has tremendous value in terms of showing the steps that should be taken when a vaccine injury is suspected.

Subscribe now and receive 3 Free Dr. Tenpenny eBooks!

Are vaccines like the flu shot dangerous? The only way to answer this question starts when people report their vaccine injury to the government's Vaccine Adverse Event Reporting System or VAERS. Here is a video how to do it.
VAERS website: https://vaers.hhs.gov/
---
-before they silence us...
---
Please follow and like us:
Comments
comments