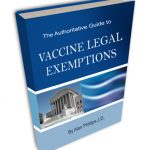 FINALLY
 -- Comprehensive, authoritative information about
vaccine exemptions you can trust
, from Alan Phillips, J.D., a leading vaccine rights attorney with years of experience helping clients throughout the U.S. legally avoid vaccines in a wide variety of vaccine-refusal settings. Recommended By Dr. Tenpenny
---
The power of vaccines is immense and expansive, no matter what side of the fence you might be on. But a video on Youtube takes the nefarious possibilities of vaccine application to an entirely new level.

Subscribe now and receive 3 Free Dr. Tenpenny eBooks!

You might just not want to watch this, particularly if you want a good night's sleep.
---
-before they silence us...
---
Please follow and like us:
Comments
comments